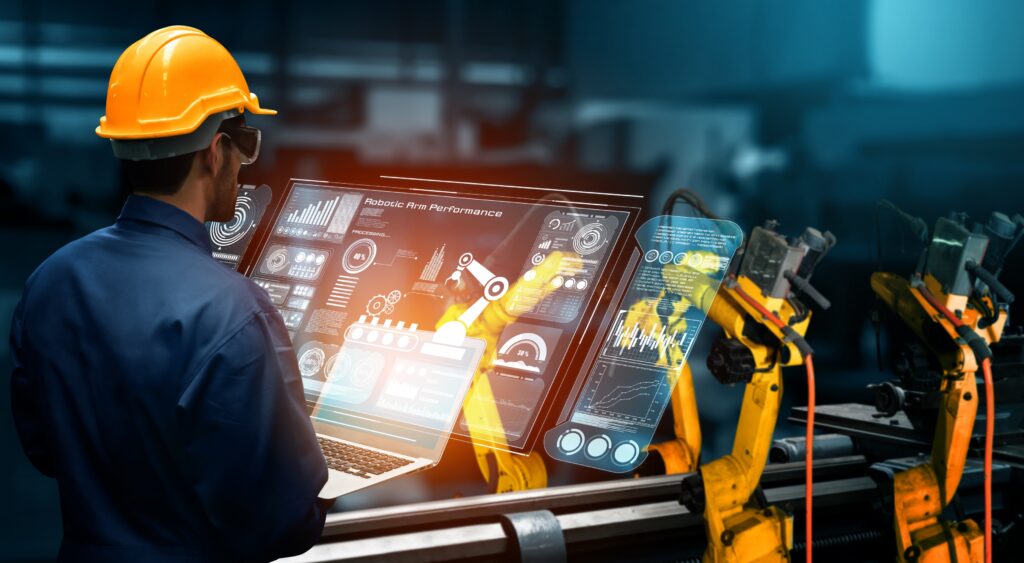 Digital twin technology is one of the fastest growing concepts of Industry 4.0. Gartner defines a digital twin as a software design pattern that represents a physical object with the objective of understanding the asset's state, responding to changes, improving business operations and adding value.
With the Digital Twin you create an identical, digital image of your product or process and can thus influence all developments at any time, from the conception phase through development to delivery and use to the end of service, and quickly develop new features for greater customer benefits. Let's take a look at the benefits of using a digital twin model and what you should consider before adopting one.
According to Gartner, 13% of organizations implementing IoT projects already use digital twins, while 62% are either in the process of establishing digital twin use or plan to do so. The digital twin market is estimated to grow from $3.8 billion in 2019 to $35.8 billion by 2025, at a CAGR of 37.8%, according to a report from MarketsandMarkets.
Types of Digital Twins
 According to Gartner, there are these three types of Digital Twins: discrete, composite, and organizational. 
Digital Twin of Organisations: Is a dynamic software model that draws on operational and/or other data to understand how an organisation manages its business model, how it connects to its current state, responds to change, deploys resources and delivers exceptional customer value.
Composite digital twin: These are typically designed to monitor and optimise the use of a related combination of discrete digital twins and different resources. For example, such as cars or industrial turbines, and more complete industrial or manufacturing processes.
Discrete digital twin: Typically used to monitor and optimise the use of resources, such as people, individual products, pieces of equipment and simple process tasks.
The Benefits of Using Digital Twins in Manufacturing
Digital twin technology is vital  for product manufacturers. In manufacturing, you can use a digital twin technology at various levels: 
Component level – focused on a single, highly critical component within the manufacturing process.
Asset level – creating a digital twin of a single piece of equipment within a production line.
System level – using a digital twin to monitor and improve an entire production line.
Process level – this looks at the entire manufacturing process from product and process design and development, to manufacturing and production. It also applies to distribution and the use of the finished product by customers/patients throughout the entire life cycle, as well as for the development of future products.
Let's take a look at the benefits of using a digital twin:
Increased reliability of equipment and production lines

Improved OEE through reduced downtime and improved performance

Improved productivity

Reduced risk in various areas, including product availability, marketplace reputation, and more

Lower maintenance costs by predicting maintenance issues before breakdowns occur

Faster production times

New business opportunities such as mass customisation, mixed manufacturing, small-batch manufacturing, and more

Improved customer service as customers can remotely configure customised products

Improved product quality and enhanced insight into the performance of your products in multiple real-time applications and environments

More efficient suppyl and delivery chains

Improved product quality & customer satisfaction

Reduced time to market. 

Drive operational efficiency. 
With the help of a digital twin, companies can test and validate a product before it even exists in the real world. By creating a replica of the planned production process, a digital twin enables engineers to identify any process failures before the product goes into production. Engineers can disrupt the system to synthesize unexpected scenarios, examine the system's reaction, and identify corresponding mitigation strategies. This new capability improves risk assessment, accelerates the development of new products, and enhances the production line's reliability.
Since a digital twin system's IoT sensors generate big data in real-time, businesses can analyze their data to proactively identify any problems within the system. This ability enables businesses to more accurately schedule predictive maintenance, thus improving production line efficiency and lowering maintenance costs.

It is often very difficult or even impossible to get a real-time, in-depth view of a large physical system. However, a digital twin can be accessed anywhere, enabling users to monitor and control the system performance remotely.
Process automation and 24×7 access to system information allows technicians to focus more on inter-team collaboration, which leads to improved productivity and operational efficiency.
A virtual representation of a physical object has the ability to integrate financial data, such as the cost of materials and labor. The availability of a large amount of real-time data and advanced analytics enables businesses to make better and faster decisions about whether or not adjustments to a manufacturing value chain are financially sound. 
If you want to create a Digital Twin of your production line, reach out to us and our experts will advise you so that you can boost your company.
NC-Vision supports organizations with its revolutionary toolbox for production and traceability. Our NoCode approach lets you mix and match exactly the applications you need, from supporting your production line to warehouse management, quality or traceability. You can select from more than 50 applications to visualize what's going on on the shopfloor – anywhere, anytime..
Compose your unique manufacturing solution in minutes. Curious? Schedule your free customized demo.