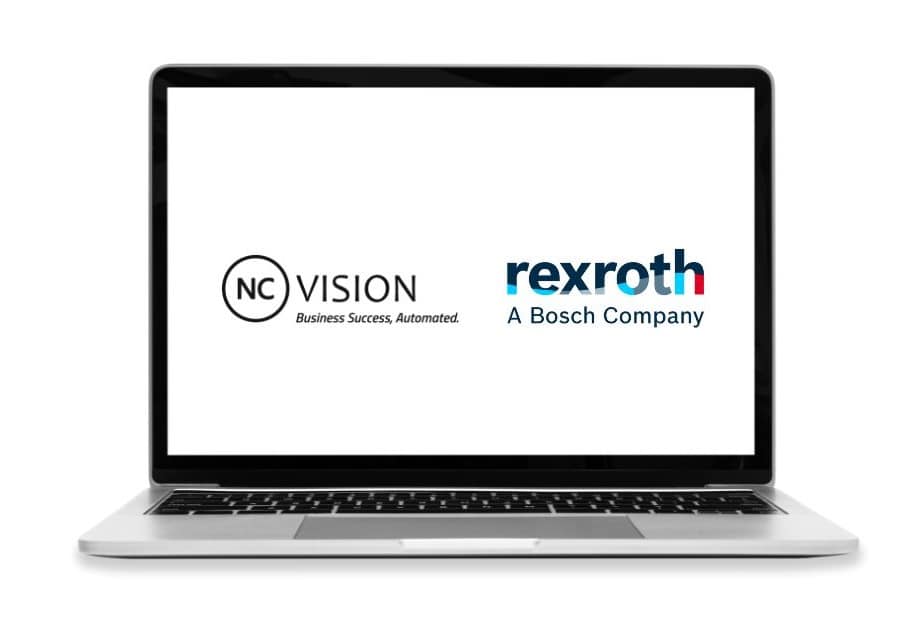 NC-Vision, a pioneering software company providing a cutting-edge no-code technology platform for the manufacturing sector, is pleased to announce that it becomes part of ctrlX World from Bosch Rexroth to bring innovative automation solutions to the market. The focus is on integrating NC-Vision's no-code platform in Bosch Rexroth's open automation toolkit ctrlX AUTOMATION, to provide composable, smart workstations and terminals that are transforming the manufacturing industry.
​The collaboration between NC-Vision and Bosch Rexroth will unlock the extraordinary potential of No-Code based Smart Workstation-centered MES. These versatile workstations and terminals allow manufacturers to effortlessly create, instantly deploy, and seamlessly integrate automation solutions. With real-time visibility into every aspect of manufacturing processes, companies can optimize operations and achieve paper-free shop floors with digital worker guidance.
Oliver Ruzek, CEO & Co-Owner of NC-Vision, expressed his excitement about the partnership, stating, "We are thrilled to join forces with Bosch Rexroth to bring our holistic no-code platform to the ctrlX world. By combining our expertise in Production IT and shopfloor management with Bosch Rexroth's open automation toolkit, we can provide manufacturers with a comprehensive solution that bridges the gap between topfloor and shopfloor."
Bosch Rexroth's automation toolkit ctrlX AUTOMATION is an open system that provides all the building blocks for complete automation solutions. The system is modular, scalable, and covers the requirements for almost all applications. By integrating NC-Vision's no-code platform, manufacturers can start small with versatile smart workstations for digital worker guidance, Order Management, OEE, and more. They can then scale up step by step to a Smart Workstation-centered MES, ensuring optimized operations and a seamless transition to becoming a smart factory.
"As one of the world's leading suppliers of drive and control technologies, Bosch Rexroth enables efficient, powerful, and safe movement in machines and systems", said Hans Michael Krause, Director Ecosystem ctrlX World at Bosch Rexroth. "Our partnership with NC-Vision allows us to further enhance our automation solutions. Users now also have access to NC-Vision's comprehensive no-code platform for digitizing shopfloor management and achieving real-time visibility."
NC-Vision, joining Bosch Rexroth's ctrlX World is a significant step towards the future of automation. By combining its expertise and technologies with Bosch Rexroth's solutions, the company will transform the manufacturing sector and enable companies to efficiently manage all their shopfloor operations.
About NC-Vision:
NC-Vision is the leading No-Code Technology provider for Production IT and shopfloor management solutions. Their holistic no-code platform enables manufacturers to customize and modernize existing production IT, to further bridge the gap between topfloor and shopfloor, and gain real-time visibility into manufacturing processes. With versatile smart workstations and a scalable platform, NC-Vision brings immediate value on the journey to becoming a smart factory. For more information, please visit www.nc-vision.com.
About Bosch Rexroth: 
As one of the world's leading suppliers of drive and control technologies, Bosch Rexroth ensures efficient, powerful and safe movement in machines and systems of any size. The company bundles global application experience in the market segments of Mobile and Industrial Applications as well as Factory Automation. With its intelligent components, customized system solutions, engineering and services, Bosch Rexroth is creating the necessary environment for fully connected applications. Bosch Rexroth offers its customers hydraulics, electric drive and control technology, gear technology and linear motion and assembly technology, including software and interfaces to the Internet of Things. With locations in over 80 countries, more than 32,000 associates generated sales revenue of around 7.0 billion euros in 2022.  To learn more, please visit www.boschrexroth.com