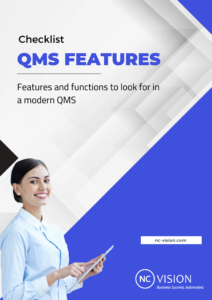 Does your manufacturing business have an effective quality management system (QMS)? If not, it may be time to consider the benefits of improving your QMS to formalize processes and procedures. For manufacturers that are focused on product and process improvement, proper QMS implementation will lead to increased productivity and profit. But, how do you know which QMS is right for you?
Why Organizations Need a QMS
A QMS is a set of business processes that help an organization stay compliant and deliver products that consistently achieve customer satisfaction. In today's competitively compliant global market, more companies understand the strategic importance of a quality management solution to facilitate the production of high-quality products fast while meeting the strict requirements of FDA, SOC, SOX regulations and ISO quality standards.
Modern companies are now embracing the business benefits of an automated, highly-auditable quality management solution, that enables supply chain-wide visibility and input into quality processes to maximize business results and ensure quality success.
If you're planning to implement a quality management system (QMS) in the near future, you can start building a requirements list based on this overview of features and functions to look for in a modern QMS.
Discover all QMS features you might need
We've compiled a QMS checklist to help you get started. Choose what works for you, add any requirements you have.